SureFlap is featuring in the Salesforce Transform your Business campaign in London
18th January 2016
Salesforce is a powerful customer relationship management tool that helps us to stay connected with our customers at every stage of their buying journey, from pre-purchase queries to post-purchase feedback.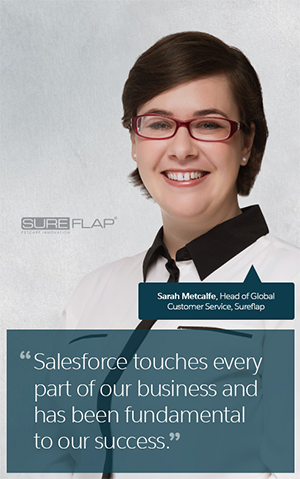 "Salesforce touches every part of our business and has been fundamental to our success," says Sarah Metcalfe, SureFlap's Head of Customer Service.
At SureFlap we always strive to give the best customer service, ensuring that all our customers and their pets are happy, and Salesforce helps us to achieve this. We know that our products are great, but just having great products isn't enough. Those products need to be supported by great customer service.
Using Salesforce, we can connect with our customers effectively. It allows us to capture feedback from our customers, feedback that we use to improve our products and develop new ones. Salesforce has been integral to the development of our business. When we first implemented the tool, our turnover increased by 186%; and our growth has continued ever since.
To highlight the success that we have achieved through Salesforce, SureFlap will be featured in their Transform your Business campaign from 18th-31st January 2016 in London. SureFlap will be featured in:
1. A large video screen in Canary Wharf
2. DLR panels from London City Airport
3. The coffee cups of 50 independent coffee shops
If you spot us in London, why not let us know or share a picture on Facebook, Twitter or Instagram!