Sure Petcare Sponsors New Cat Summer House at Wood Green, The Animals Charity
15th November 2017
Sure Petcare has sponsored a new summer house in the cat section of Wood Green, The Animals Charity Godmanchester centre in Cambridgeshire.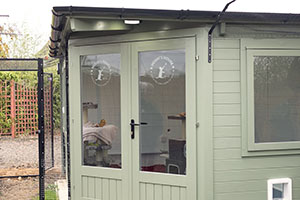 The new summer house has been built courtesy of a donation from the company which hasbeen topped up by fundraising by Sure Petcare's employees and a contribution from the Tiger MCC Motorcycle Club. It features an enclosed garden of 10m by 5m and enrichment activities to keep them entertained including scratching posts, toys and shelves for cats to sit on. The marketing team from Sure Petcare put the finishing touches to the new building during a volunteering day at Wood Green centre in Godmanchester held on 8 November, setting up the cat home with furnishings inside the summer house, as well as installing a SureFlap Microchip Pet Door, ready for the cats to move in.
Cats are not sociable animals and those kept in a cattery in close proximity to others get stressed easily; this is especially true for breeds such as Bengals. The summer house will be occupied by a wide range of cats including single adult cats that like their solitude, pairs, trios or even whole litters of kittens. The summer house, which is set away from other cats, offers additional space and enrichment, making the stay at Wood Green much less stressful.
Monika Maintz, cat section manager at Wood Green, The Animals Charity comments: "The summer house is extremely beneficial for cats in our care that do not like other cats and need to be away from them. Cats are not usually sociable creatures and dislike being in a cattery environment, especially breed cats such as Bengals. By housing them in the summer house for their stay at Wood Green we improve their welfare by making it less stressful.
She continued: "The first resident to the house is Charlotte, an 11 year-old cat who has been at the shelter since December 2016. Charlotte was found in a vacant property after her owners had passed away and this left her understandably traumatised. The summer house also has a large grass area and we hope by letting her have access to the garden, she will be able to go outside for the first time in her 11 years and feel the grass on her paws. We hope that people will come and see her and, hopefully, Charlotte will get the forever home that she deserves."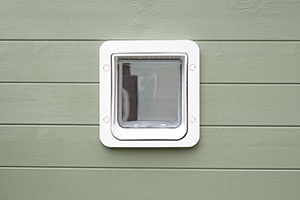 Dr Nick Hill, managing director of Sure Petcare, adds: "Sure Petcare is dedicated to raising animal welfare standards by developing and manufacturing products that enrich the lives of both pets and their owners and make pet ownership enjoyable. We are therefore delighted to be able to support Wood Green with the launch of its summer house which will ensure that cats in its care are as stress free as possible."
Sure Petcare has an affiliate scheme which enables Wood Green supporters to receive a discount on Sure Petcare products. For every product sold Sure Petcare matches the discount the customer receives with a donation to Wood Green, The Animals Charity. For details of the scheme visit https://www.surepetcare.com/en-gb/wgor.
For further information on Wood Green, visit www.woodgreen.org.uk.