Veterinarian gives fantastic account of experience with Microchip Pet Feeder Connect
Having graduated from Virginia-Maryland College of Veterinary Medicine in 2017, Julie is now an associate veterinarian at Garden City Park Animal Hospital in Long Island, NY. She also works at The Cat Doctor, which is a cat exclusive practice. Her four-and-a-half-year-old cat Godiva has been using the SureFeed Microchip Pet Feeder Connect, which stops her other cat Vlad from stealing her food, and also gives Julie an insight into Godiva's feeding habits. We got in touch with Julie to find out more.
Could you tell us a bit more about Godiva and Vlad?
Godiva is such a smart cat and is full of energy.  She literally jumps off the walls and loves to run on her cat wheel, especially when I am spinning on my spin bike which is conveniently located next to her wheel.  She loves her wet food but has always been a grazer when it comes to dry food.  
Vlad is a 1.5-year-old Siamese mix who is the polar opposite.  He is a really chilled cat, except when it comes to eating.  Vlad would engorge himself like a tick with dry food if allowed.  Outside of eating, he is the most adorable, sweet, cuddly cat imaginable.  
Why did you choose the Microchip Pet Feeder Connect? 
Because of Godiva's high level of exercise and refusal to eat her dry food right away, Vlad would finish his portion of dry food and her portion right after.  Godiva started to appear very skinny and Vlad put on all the weight she lost.
Has the feeder solved any particular issues that you previously experienced?
Yes!  I am so happy I got this feeder!  Vlad can't get into Godiva's food anymore and Godiva can graze as she pleases, and she is happier for it.
Has the feeder given you an insight into your cats' feeding habits?
Yes, I am able to follow Godiva's schedule and I know when she likes to feed.  I also keep track of how much she eats per day now.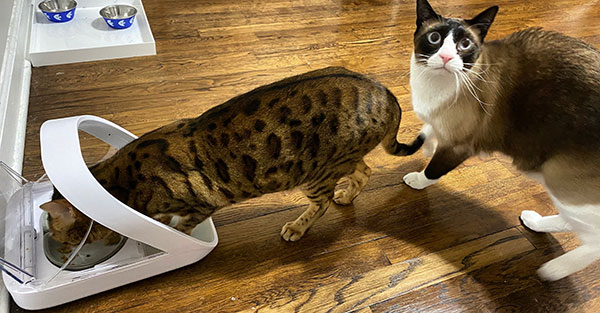 What type of food do you feed your cats?
Godiva has food allergies so both cats are on Royal Canin Hydrolyzed Protein.
Do any of your cats have weight problems and if so, how will the feeder help them?
Vlad is fat.  He can now finally lose weight because I am able to portion control him.
How did you find the setup of the app?
Easy and quick!
How often do you use the app and when do you interact with the app most?
I check it once or twice a day, but I find I spend the most time on it and check the graphs before bedtime.
Is there any area of the app that you have used most? 
The graph section to track her trends.
Is there any additional information you would like to share?
I'm not sure if it is because Godiva is a smart cat, but I did not have to use the training mode with her, and she figured out the feeder in less than five minutes.  Pairing Godiva and 'training' was super easy!  I also love the way it looks and want to get some coloured bowls and mats for her eventually.
Would you recommend the product? 
Absolutely!  I work at our feline only practice once a week, so I tend to see more cats than the average dog/cat practice DVM.  There are so many cats that this would benefit who are in multi-cat households, ranging from cats who need to be on special diets to cats who need to gain or lose weight!  I love how it has worked thus far. It's reliable and solved a problem I have been battling with for almost a year.