Animo pet activity and behaviour monitor receives Editors' Choice Award
11th November 2019
Sure Petcare, the pet technology specialist, has been selected as a finalist for the Pet Product News International 2019 Editors' Choice Award for Animo, the dog behaviour and activity monitor, which monitors sleep, exercise and changes in behaviour. Overall category winners will appear in the January 2020 edition of the magazine.
Animo delivers insights into a dog's activity and sleep, as well problem behaviours, such as shaking, scratching and barking.  These insights help owners understand the changing needs of their pet over its lifetime, enabling them to provide proactive and personalised pet care.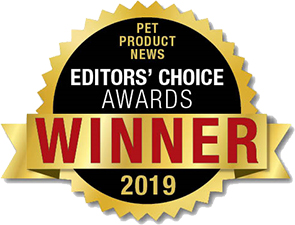 Trained veterinarian and Managing Director of Sure Petcare, David Hallas, DVM, MBA, said, "We are delighted to be chosen as a finalist for the Editors' Choice Award. Animo is an important tool for dog owners who want to be more aware of their dog's behaviour and activities. It is always there, 24/7, recording data about what is going on with a dog. Using this knowledge, owners can more proactively provide for their dog's care."
Worn on a dog's collar, Animo comes with three differently sized attachment bands, making it suitable for dogs of all sizes. Weighing just 22 grams, Animo is lightweight, comfortable and waterproof.  It sits flat against the collar and its "twist and lock" fitting not only makes it easy to attach and detach, but also holds the unit firmly in place. It operates using a standard coin cell battery which lasts for six months, preventing the need for regular charging.
Animo connects to the Sure Petcare - Animo app via Bluetooth Low Energy (BLE), where owners can set and monitor daily activity goals for their pet, as well as view their pet's activity and behaviour reports by day, week, month or year.  The app also provides an hour-by-hour sleep quality report every night, which can be compared against previous nights to easily spot changes in sleep patterns. 
Key features of Animo and the Sure Petcare app include:
Behaviour: The Sure Petcare - Animo app highlights significant increases in barking, scratching and shaking.  More frequent instances of these behaviours could indicate problems such as fleas, skin allergies, ear infections or environmental factors causing stress.
Activity: Set and monitor daily activity and calorie burn goals for your dog and receive a notification when each goal is met. View activity reports by day, week, month and year.
Sleep Quality: View your dog's nightly sleep quality report, compare sleep quality over time and receive a notification if your dog's sleep quality decreases. A poor night's sleep can be an indication of stress, discomfort or illness. Customise your dog's nightly sleep hours (5 hours minimum) for more accurate sleep quality monitoring.
Rest: See how much rest your dog gets during the day.
App access: Give access to friends, family and pet sitters so that they can sync Animo while you are not around.
Additional app features include:
Intuitive Dashboard: Pet alerts are now displayed at the top of the daily dashboard for greater visibility. The new scroll function makes it easy to look back on your dog's alert history.
Update to Alerts & Notifications: Select which notifications you receive. Receive notifications when Activity and Calorie goals are met.
New Rest Behavior Feature: Displays the amount of time your dog has spent resting during the day.
Background Sync: Animo will sync when the Sure Petcare - Animo app is open on your mobile device, even when it is running in the background.